Expert Report on Chemical and Technical Aspects of the "Gas Chambers" of Auschwitz
This is the work that started everything: my fame and my infamy, my rise to a hero and my fall to the devil incarnate. Starting in 1991, this purely technical and scientific expert report was prepared on the requested of a German defense lawyer for the defense of his client who had been indicted for "Holocaust denial," which in Germany is a crime punishable with up to five years imprisonment. Since introducing evidence supporting revisionist claims is illegal in Germany, my original German expert report of 1993 has never been accepted by any court of law. They indicted and eventually jailed me for my research results instead, because they contradict numerous witnesses, among them some allegedly infallible, sacrosanct "Holocaust survivors."
This version described and linked to below is the massively expanded and revised second English edition of 2011. It addresses many objections made against my report, and it also chronicles the persecution which I had to suffer as a consequence of my research.
And again: I cannot and will not post an entire book on my website, so all I provide here is a brief description as well as a number of links where you can download it as a free PDF file or purchase a hardcopy.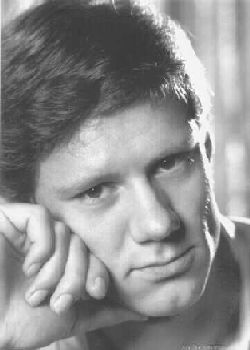 Germar Rudolf in the summer of 1991, when trying (in vain) to have a paper on his expert report published in a mainstream chemistry journal.
In 1988, Fred Leuchter, American expert for execution technologies, investigated the alleged gas chambers of Auschwitz and Majdanek and concluded that they could not have functioned as claimed. Ever since, Leuchter's claims have been attacked. In 1993, Rudolf, a researcher from the prestigious Max Planck Institute, published a thorough forensic study about the "gas chambers" of Auschwitz. His report irons out the deficiencies and discrepancies of "The Leuchter Report." The Rudolf Report was the first English edition of this sensational scientific work. This new edition analyzes all existing evidence on the Auschwitz gas chambers and offers even more evidence. The conclusions are startling. Appendix describes Rudolf's unique persecution—this brilliant scientist was so feared by the mainstream holocaust establishment that they banned him from writing about or researching the subject as terms of his release from prison!
Here's what several scholars had to say about this book:
"I am extraordinarily impressed. To my knowledge, you are the first expert in Germany who has addressed this particular topic in a scholarly impeccable and well-founded way. It is not for me to attribute an ice-breaker function to your expert report. It is easy to see which political-historical effects will originate from it, though its entire dimension cannot yet be estimated." —Prof. Dr. Hellmut Diwald, Historian, January 22, 1992
"I read it with great interest. […] My impression is, however, that this expert report is an important contribution to a very important question which, since the 'Leuchter Report,' needs to be answered urgently. […] One can only very much hope that the well-known tactics of hushing up is not applied to your expert report, but that critical responses and comments will be made." —Prof. Dr. Ernst Nolte, Historian, January 28, 1992
"For me, the significance of receiving your report rests on the fact that it substantially contributes to our stock of knowledge. With many of my collegues active in the field of contemporary history, I am overjoyed and thankful for you having initiated this research activity. Of course, I am even more delighted regarding the results of your accurate scientific investigation." —Prof. Dr. Werner Georg Haverbeck, Historian, January 31, 1992
"I calmly read your report! It gives me hope to realize that a representative of the younger generation courageously sets out, with scientific thoroughness, noticeable great expertise, and corresponding investigative curiosity, to get to the bottom of a controversial question that is of worldwide significance! The result is clear and unequivocal! True facts cannot be suppressed forever! I wish that your work will make the breakthrough!" —Prof. Emil Schlee, Historian, April 1, 1992
"[…] I sincerely hope that all statements about this topic would obviously be based on long and intensive work such as yours. Most of it is certainly unverifiable for the layman, but the photographs are already quite informative. […]" —Prof. Dr. Ernst Nolte, Historian, January 6, 1993
"Rudolf is a young scientist who tried to prove in an excellently layed-out work with tables, graphics, and so on, that the gas chambers were technically impossible. […] These scientific analyses are perfect." —Hans Westra, Anne-Frank-Foundation, BRT 1 TV (Belgium), Panorama, April 27, 1995
"All in all, he relies on literature which was written long before this report was completed, and the report must be described as scientifically acceptable." —Prof. Dr. Henri Ramuz, Chemist, interrogated as expert witness about the Rudolf Report by the Swiss Court at Châtel-St.-Denis, May 18, 1997
2nd, revised edition, 458 pp. pb, 6″×9″, 97 illustrations, bibliography, index (published in 8/2011)
ISBN13: 9780984631278; list price: $33.00 +s&h (for actual prices please see retail outlets)