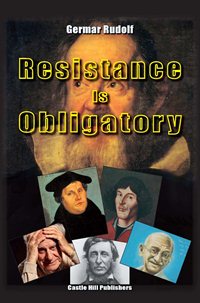 After some hesitation I have decided to post my 2012 book Resistance Is Obligatory for free downloading on the internet. I may appeal to all those who take advantage of this offer, however, to seriously consider reimbursing me for this somehow, for instance by making a donation – if not right now while downloading, then at least after having read it, if you liked the book.
Thanks a lot for your interest. I am looking forward to any feedback!
By the way: the printed edition of this book can be bought from Castle Hill Publishers in the UK (£18 + s&h). There you can also find an option to search for online retailers in any country of the world that carry this book.
---
Download it free of charge here: Germar Rudolf, Resistance Is Obligatory (2012; PDF-Datei, 6 MB)
---
Note: if you want to post this book elsewhere, I permit this under three conditions:
Downloading must be free of charge.
No changes may be made to the file without my expressive consent.
Next to the download link a message ought to be posted which states,

that this is a copy of the original file;
that the original file is located at www.GermarRudolf.com (with a clickable link to this page);
that the author would appreciate a donation (with a clickable link to my donation page).
that further dissemination of the file is appreciated, but has to be free of charge;
that no changes may be made to the file without the expressive consent of the author.