[:en]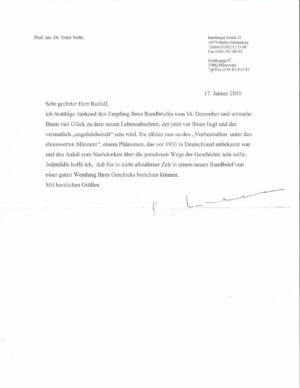 A few months after my release from prison, I received the following letter from Prof. em. Dr. Ernst Nolte, dated 17 January 2010:
Dear Mr. Rudolf,
I gratefully confirm receipt of your circular letter of 16 December and wish you luck for the new chapter of your life which now lies ahead of you and which will presumably be "Anglo-Saxon." You are now among the "convicts among the honorable men," a phenomenon which was unknown in Germany before 1933 and which should be food for thought about the paradoxical ways of history.
I hope in any case that you will be able to report in a new circular letter in the not-too-distant future about the positive turn of your fortunes.
Cordially Yours
[signed Ernst Nolte]
---
Although he does not agree with us revisionists, Prof. Ernst Nolte nevertheless is one of the few orthodox historians who are treating revisionists like human beings and not like leprous scum, as the vast majority of orthodox historians did and is still doing. For this humaneness, honesty and intellectual open-mindedness he has paid dearly. I think very highly of him for this. Unfortunately civil courage is still rare.[:de]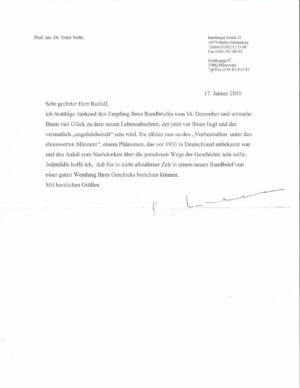 Einige Monate nach Freilassung aus dem Gefängnis erhielt ich von Prof. em. Dr. Ernst Nolte folgenden Brief, datiert am 17. Januar 2010:
Sehr geehrter Herr Rudolf,
ich bestätige dankend den Empfang Ihres Rundbriefes vom 16. Dezember und wünsche Ihnen viel Glück zu dem neuen Lebensabschnitt, der jetzt vor Ihnen liegt und der vermutlich "angelsächsisch" sein wird. Sie zählen nun zu den "Vorbestraften unter den ehrenwerten Männern", einem Phänomen, das vor 1933 in Deutschland unbekannt war und das Anlaß zum Nachdenken über die paradoxen Wege der Geschichte sein sollte.
Jedenfalls hoffe ich, daß Sie in nicht allzuferner Zeit in einem neuen Rundbrief von einer guten Wendung Ihres Geschicks berichten können.
Mit herzlichen Grüßen
[gez. Ernst Nolte]
---
Obwohl er mit uns Revisionisten nicht übereinstimmt, ist Prof. Ernst Nolte einer der wenigen orthodoxen Historiker, welche die Revisionisten wie Menschen behandeln und nicht wie aussätzigen Abschaum, wie es die überwiegende Mehrheit der orthodoxen Historiker tat und noch tut. Er hat für diese Menschlichkeit, Ehrlichkeit und geistige Offenheit teuer bezahlt. Das rechne ich ihm sehr hoch an. Zivilcourage ist eben leider immer noch selten.[:]