[:en]
[I apologize for the mess, but the current php version installed on this server cannot handle my bilingual plugin qTranslate-X, so I'm stuck with trying to make it kind of work while looking for a solution.]
Thank you for visiting my site! In case you wonder about the logo: I love space art! I have a large collection of them (electronic only). Plus I must confess: I'm a Trekkie. Bradley used to laugh at me for watching each episode of Star Trek Voyager and The Next Generation. Let him laugh. In my youth I read all the Mark Brandis books I could lay my hands on. Maybe one day I'll get a stargazer…
So much about trivia. Now to the more serious and dark parts of my ego. Here is my public confession: I have written nasty books… some say. Others like them a lot. Read on to learn more, or browse this site at will to read and learn. Plus, those who do like my writings, if you'd like to have a signed copy of any of my books, please visit my web page dedicated to that here.
As to me, well, since I don't think that it's a good idea to talk about myself on my own home page (this site is full of my own stuff anyway), I have decided to hand over the virtual microphone to a friend: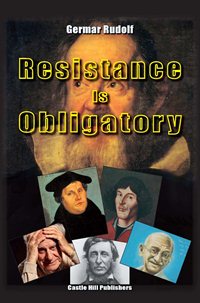 Germar Rudolf: Resistance Is Obligatory. 376 pages, 6″×9″, with color illustrations, $35 in the U.S.. The book is also available from Castle Hill Publishers in the UK. A German version entitled "Widerstand ist Pficht" appeared in March 2012. Both the English version can be downloaded as a PDF-file free of charge wie auch die deutsche Fassung als kostenlose PDF-Datei heruntergeladen werden kann!
(An extract from the foreword to my book Resistance is Obligatory, available as indicated beneath the cover image to the right.)
Galileo Revisited
The story goes that, when Galileo faced his inquisitors, they showed him the instruments of torture. Whatever else he may have been, Galileo was also a physician, so he knew what metal does to flesh, hence he recanted.
Not so Germar Rudolf.
It's also said that, in his recantation, Galileo crawled across the floor to his accusers.
Not so Germar Rudolf.
In a letter written by Germar from his prison cell he examines why he became a Holocaust revisionist and why he was prepared to pay such a terrible price. The fact is that Germar was never much interested in World War II or the Holocaust. What interested him were the whys and wherefores of lies, delusions and propaganda. Why are they created? How are they propagated, maintained and enforced, and why do we believe in them? To him Holocaust propaganda is not a mere historical issue but rather also an ideological issue. Nor does there seem to be any single motive for his interest; rather it stems from a mixture of personal history and personality. From childhood he was blessed (or cursed) with an insane curiosity and with what he describes as "a greatly overdeveloped sense of justice." We also learn that he was brutalized by his father.
In his typical German primary and secondary education, he touched the subject of the Holocaust several times:
"The usual claims about it seemed indubitable, undeniable to me, truth chiseled in stone, self-evident."
But in 1989 he came across the writings of Paul Rassinier,[1] a former French communist, partisan fighter, and inmate of Buchenwald and concentration camps. Rassinier heard stories after the war of mechanized exterminations in Buchenwald – a claim he knew to be untrue. He wondered, "If they can lie about that, what else can they lie about?" To the young German student, Germar Rudolf, Rassinier "opened my eyes and allowed doubts. Nothing more, just doubts."
Germar had been raised not to doubt anything about the orthodox Holocaust narrative, which in itself maddened him, as did the increasing persecution in Germany of anyone who raised the issue.
"[…] at once I knew – and a little research confirmed it – that who doubts or dissents is relentlessly ostracized, persecuted, and even prosecuted with no chance of defense. So I said to myself, this is outrageous, unacceptable, against all norms and ideals of this society, and the fact that there is no other topic where dissent is more severely suppressed is evidence enough for me that it is also the most important topic. He who is sure of being truthful is relaxed; only liars call for earthly judges. […]I was sure I was right, and unless I was convinced by rational, scientific arguments that I was wrong, I was not going to give in. They made the mistake to provoke the blood out of me by persecuting me. That's it. No negotiations any more. My father didn't manage to break me with stick, whip, fists or by using me as a missile, and so they won't break my will with violence either. It only gets stronger with every beating."
That is Germar Rudolf: a strong-minded contrarian with enormous willpower.
"The only way to take this away from me is by killing me. Period. Anybody who punishes me for merely exercising my human right of being a human, a creature able to doubt and explore, will meet my utmost unbreakable resistance. I won't allow anybody to reduce me to a submissive slave. Nobody."
Revising the Holocaust Narrative
An increasing number of scholars and lay people clearly see that something is not right with Elie Wiesel and the current Holocaust narrative. The writings of Germar Rudolf and others simply confirm what they already suspect. They may care little for chemical traces in the brickwork at Auschwitz or topological evidence of mass graves, but they have seen other historical events substantially revised and they are suspicious of the outrage and scorn heaped upon those who question the uniqueness and scope of this particular event, especially when it is used to persecute Palestinians and promote endless war in the Middle East.
That Jews suffered greatly during the Third Reich is not in question, but the notion of a premeditated, planned and industrial extermination of Europe's Jews with its iconic gas chambers and immutable six million are all used to make the Holocaust not only special but also sacred. We are faced with a new, secular religion with astonishing power to command worship. And, like Christianity with its Immaculate Conception, Crucifixion, and Resurrection, the Holocaust has key and sacred elements – the exterminationist imperative, the gas chambers, and the sacred six million. It is these that comprise the holy Holocaust which Jews, Zionists, and others worship and which Germar Rudolf and other revisionists question.
Nor is this a small matter. If it were, why the fuss? Why the witch-hunt? Why the demonization and imprisonment of David Irving, Ernst Zündel and Germar Rudolf? And it is not just these infidels. What may well be a massive lie is being used to oppress whole nations. The German and Austrian people are blamed for conceiving and perpetrating the slaughter; the Russian, Polish, Ukrainian, Lithuanian, Latvian, Estonian, Rumanian, and Hungarian people are blamed for hosting, assisting, and cheering on the slaughter; the Americans, the British, the French, the Dutch, the Belgians, the Italians, and even Diaspora Jews are blamed for not doing enough to stop the slaughter; the Swiss are blamed for profiting from it; the entire Christian world is blamed for its faith-traditions and ideologies that allowed the slaughter to take place; and more recently the Palestinian, Arab, and Muslim people are blamed for wanting to perpetuate the slaughter by delegitimizing Israel. To many the current version of the Holocaust oppresses the entire non-Jewish world and indeed much of the Jewish world as well.
Germar Rudolf is a Holocaust revisionist and a dedicated researcher of historical evidence. For him "Holocaust denier" is simply a term of abuse to be hurled as "witch" might have been hurled in the Middle Ages. But for me, "Holocaust denier" is a label with which I have been smeared for merely trying to define the term. Although I have never denied any of the three tenets of the orthodox Holocaust narrative, the mere fact that I am interested in revisionism and have actually met contemporary revisionists has caused the more cowardly of my colleagues to smear me and denigrate my reputation at Hobart and William Smith Colleges.
I first met Germar in April 2010. He had recently been released from prison in Germany and was staying in England until he could get a visa to return to his wife and child in the United States. We spent several days together along with our UK Director of Deir Yassin Remembered Paul Eisen, Henry Herskovitz from Ann Arbor, and Francis Clark-Lowes, an activist from Brighton.
Germar spoke of many aspects of the Holocaust and Holocaust revisionism that were completely new to us. We were fascinated with his struggle. He spoke about his erstwhile Catholic faith, about Germany and Germans then and now, the Third Reich and Hitler, his own present state and relationships, his hopes and fears for the future, and many other topics. Speaking fully and fluently in English and with an astonishing grasp of facts and interpretations, the hours turned into days and yet never, not once did he repeat himself.
Resistance is Obligatory
In Germar's new book "Resistance Is Obligatory" you will read the address made by Germar to the Mannheim District Court prior to his sentence and conviction. You will see the writings of Germar on a variety of matters including truth-seeking as the essence of human dignity, the conflict between the truth-seeker and the state, the meaning of science, justice and resistance in Germany and in other countries. You will find appendices documenting numerous motions to the courts and their rejections, letters to distinguished historians and their craven and sometimes less-than-craven replies. Finally, you will hear the court's verdict and the sentence.
Read it and Resist!
Note
[1] In Rudolf's case it was Rassinier's book Was ist Wahrheit?, 8th ed., Druffel, Leoni, 1982; Engl.: The Real Eichmann Trial or The Incorrigible Victors, Institute for Historical Review, Torrance 1976.[:de]
[Ich bitte für das Durcheinander um Verzeihung, aber die gegenwärtig auf diesem Server installierte php-Fassung ist mit meinem Zweisprachen-Plugin qTranslate-X nicht kompatibel, so dass ich zurzeit mit Hängen und Würgen versuchen muss, es irgendwie zum Funktionieren zu bringen, bis ich eine Lösung gefunden habe.]
Danke, dass Sie meine Webseite besuchen! Falls Sie sich wundern, was es mit dem Logo auf sich hat: Ich liebe Weltraummalerei! Ich besitze eine riesige Sammlung davon (nur elektronisch). Zudem muss ich zugeben: Ich bin ein Trekkie. Bradley Smith hat mich ausgelacht, weil ich bei ihm jede Episode von Star Trek Voyager and The Next Generation angeschaut habe. Lass ihn ruhig lachen. In meiner Jugend las ich alle Bände der Science-Fiction Serie von Mark Brandis, die ich in die Finger bekommen konnte. Vielleiht lege ich mir irgendwann einmal einen Sternengucker zu…
Soviel zu Trivialitäten. Nun zu den ernsteren und dunkleren Seiten meines Egos. Hier ist mein öffentliches Geständnis: Ich habe fiese Bücher geschrieben… sagen einige. Andere mögen meine Bücher sehr. Lesen Sie weiter, um mehr zu erfahren, oder sehen Sie sich auf dieser Seite nach Lust und Laune um, um zu lesen und zu lernen. Für all jene, die meine Schriften mögen: Falls Sie ein signiertes Exemplar von irgendeinem meiner Bücher haben wollen, so besuchen Sie bitte meine dem gewidmete Webseite hier.
Nun zu mir. Nun, zumal ich meine, dass es keine gute Idee wäre, wenn ich auf meiner eigenen Heimseite über mich selber rede (diese Webseite ist ohnehin prallvoll mit meinem eigenen Kram), habe ich mich entschlossen, das virtuelle Mikrophon an einen Freund weiterzureichen: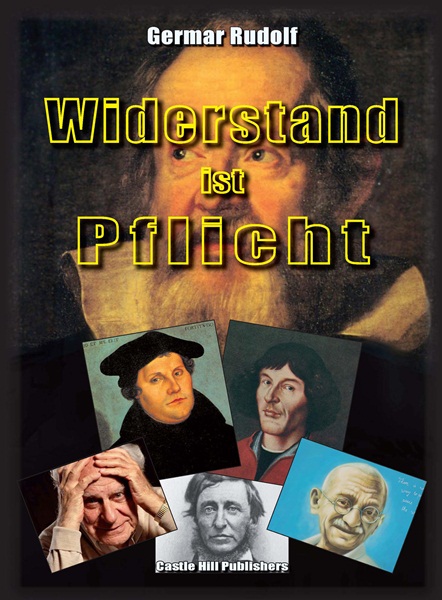 Germar Rudolf: Widerstand ist Pflicht. 422 Seite, DIN A5, mit Farbabbildungen, £25 in Europa. Dieses Buch ist auch erhältlich in englischer Sprache Resistance Is Obligatory". Sowohl die englisch Ausgabe wie auch die deutsche Fassung kann kostenlos als PDF-Datei heruntergeladen werden!
(Ein Auszug aus dem Vorwort zu meinem Buch Widerstand ist Pflicht, erhältlich wie in der Bildunterschrift rechts angegeben.)
Galileo wieder betrachtet
Es wird erzählt, dass man Galileo bei seinem Verhör durch die Inquisition die Folterinstrumente zeigte. Galileo war unter anderem auch Arzt und wusste, was Metall mit Fleisch machen kann, und so widerrief er.
Nicht aber Germar Rudolf.
Es wird auch erzählt, dass Galileo bei seinem Widerruf auf seinen Knien zu seinen Anklägern kroch.
Nicht aber Germar Rudolf.
In einem Brief von seiner Gefängniszelle aus beschrieb er, warum er ein Holocaust-Revisionist wurde und warum er bereit war, solch einen schrecklichen Preis zu bezahlen.[1] Tatsache ist, dass Germar nie sehr am Zweiten Weltkrieg oder am Holocaust interessiert war. Was ihn bewegte, waren die Gründe und Zwecke, die hinter den Lügen, den Vorspiegelungen und der Propaganda lagen. Warum werden sie in die Welt gesetzt, wie werden sie verbreitet, aufrechterhalten und durchgesetzt, und warum glauben wir daran? Für Rudolf ist Holocaust-Propaganda keine lediglich historische, sondern auch eine ideologische Frage. Und es scheint auch kein Einzelmotiv für Rudolfs Interesse zu geben, sondern ein Gemisch aus persönlicher Geschichte und Persönlichkeit. Schon als Kind war er mit einer ungeheuren Neugier gesegnet (oder belastet) und mit einem, wie er es ausdrückt, "übertriebenen Gerechtigkeitssinn". Wir erfahren auch, dass er von seinem Vater brutal behandelt worden war.
Während seiner typischen deutschen Schulbildung wurde der Holocaust mehrere Male behandelt:
"Die üblichen Behauptungen darüber schienen mir unanzweifelbar, unbestreitbar zu sein, in Stein gemeißelte Wahrheit, offenkundig."
Im Jahre 1989 jedoch begegneten ihm die Schriften von Paul Rassinier,[1] einem ehemaligen französischen Kommunisten, Partisanenkämpfer und Häftling im KL Buchenwald und Dora. Nach dem Krieg hörte Rassinier Geschichten von mechanisierten Vernichtungen in Buchenwald – eine Behauptung, die er als unwahr erkannte. Er frug sich: "Wenn sie darüber lügen können, was ist sonst noch erlogen?" Rassinier öffnete dem jungen deutschen Studenten Germar Rudolf die Augen "und ließ Zweifel zu. Nicht mehr, nur Zweifel."
Germar war dazu erzogen worden, die orthodoxe Holocaust-Erzählung nicht anzuzweifeln, was ihn an sich schon ärgerte, wie auch die in Deutschland zunehmende Verfolgung aller derer, die sich mit der Sache befassten.
"[…] ich wusste sofort – und ein wenig Forschung bestätigte mir das auch – dass jeder, der zweifelt oder abweicht, gnadenlos ausgegrenzt, verfolgt und sogar angeklagt wird, mit keiner Chance auf eine Verteidigung. Ich sagte mir also: das ist empörend, unannehmbar, gegen alle Normen und Ideale dieser Gesellschaft, und die Tatsache, dass Abweichler bei keinem anderen Thema härter unterdrückt werden, ist für mich Beweis genug dafür, dass es auch das wichtigste Thema ist. Wer seiner Sache sicher ist, bleibt gelassen; nur Lügner rufen nach dem irdischen Richter. […]

Ich war mir sicher, recht zu haben, und solange ich nicht mit rationalen, wissenschaftlichen Argumenten vom Gegenteil überzeugt würde, war ich nicht bereit, klein beizugeben. Sie begingen den Fehler, mich durch die Verfolgung bis aufs Blut zu reizen. Jetzt reicht's! Es wird nicht mehr verhandelt. Mein Vater hat es nicht vermocht, mich mit Faust, Peitsche und Stock zu brechen oder indem er mich als Wurfgeschoss benutzte, und so werden auch sie meinen Willen nicht mit Gewalt brechen. Jeder Schlag macht ihn nur stärker."
Dies ist Germar Rudolf: ein entschlossener Querdenker mit enormer Willenskraft.
"Die einzige Art, mir dies zu nehmen, ist, mich zu töten. Punktum. Jeder, der mich lediglich dafür bestraft, dass ich mein angeborenes Recht ausübe, ein Mensch zu sein, ein Wesen, das zweifeln und forschen kann, wird auf meinen äußer­sten unbeugbaren Widerstand stoßen. Ich erlaube es niemandem, mich zu einem unterwürfigen Sklaven zu erniedrigen. Niemandem."
Die Holocaust-Schilderungen revidieren
Eine wachsende Zahl von Fachleuten und Laien erkennen deutlich, dass etwas mit Elie Wiesel und der gegenwärtigen Holocaust-Schilderung nicht stimmt. Die Schriften von Germar Rudolf und anderen bestätigen lediglich, was sie bereits vermuten. Ihnen mögen chemische Spuren im Mauerwerk von Auschwitz recht gleichgültig sein oder auch topologische Beweise von Massengräbern, aber sie haben erlebt, wie andere Geschichtsereignisse revidiert wurden, und sie sind misstrauisch bezüglich der Empörung und der Verachtung, mit der jene gestraft werden, die die Einzigartigkeit und den Umfang dieses Ereignisses hinterfragen, insbesondere wenn es missbraucht wird, um die Palästinenser zu verfolgen und einen endlosen Krieg im Nahen Osten zu fördern.
Dass die Juden während des Dritten Reiches schwer gelitten haben, steht außer Frage, aber das Konzept einer vorsätzlichen, geplanten und industriellen Ausrottung der europäischen Juden mittels der ikonenhaften Gaskammern und der unveränderlichen Zahl von sechs Millionen wird benutzt, um den Holocaust nicht nur zu etwas Besonderem, sondern zudem zu etwas Heiligem zu machen. Wir sehen uns hier einer neuen säkularen Religion gegenüber mit erstaunlicher Macht, ihre Anbetung zu erzwingen. So wie das Christentum mit seiner unbefleckten Empfängnis, der Kreuzigung und Auferstehung, so hat auch der Holocaust seine heiligen Schlüsselelemente – den Ausrottungsimperativ, die Gaskammern und die heiligen sechs Millionen. Diese Elemente sind es, die den geheiligten Holocaust für Juden, Zionisten und andere Anbeter ausmachen und die Germar und andere Revisionisten hinterfragen.
Das ist auch keine triviale Angelegenheit. Wenn dem so wäre, warum dann die Aufregung? Warum die Hexenjagd? Warum die Dämonisierung und Einkerkerung von David Irving, Ernst Zündel und Germar Rudolf? Und es sind nicht nur diese Ungläubigen. Was sehr wohl eine massive Lüge sein mag, wird verwendet, um ganze Nationen zu unterdrücken. So werden die Deutschen und Österreicher beschuldigt, das Schlachten geplant und durchgeführt zu haben; den Russen, Polen, Ukrainern, Litauern, Letten, Esten, Rumänen und Ungarn wird vorgeworfen, die Gastgeber des Schlachtens gewesen zu sein und dabei geholfen und applaudiert zu haben; die Amerikaner, Briten, Franzosen, Niederländer, Belgier und Italiener und sogar die Juden in der Diaspora werden beschuldigt, nicht genug gegen die Schlächterei unternommen zu haben; den Schweizern wird vorgeworfen, daran verdient zu haben; der gesamte Christenheit wirft man ihre Glaubenstraditionen und Ideologien vor, die das Schlachten ermöglicht haben sollen; und heute werden die Palästinenser, die Araber und Moslems beschuldigt, das Schlachten fortsetzen zu wollen durch die Entlegitimierung Israels. In den Augen vieler unterjocht der Holocaust die gesamte nicht-jüdische Welt und auch noch einen großen Teil der Juden selbst.
Germar ist ein Holocaust-Revisionist und ein engagierter Erforscher historischer Beweise. Für ihn ist der Begriff "Holocaust-Leugner" ein Schimpfwort, das heute so verwendet wird wie etwa "Hexe" im Mittelalter. Für mich jedoch ist "Holocaust-Leugner" eine Bezeichnung, mit der ich beschimpft wurde, als ich lediglich versuchte, den Begriff zu definieren. Obwohl ich niemals irgendeinen der drei Lehrsätze der orthodoxen Holocaust-Schilderung abgestritten habe, hat die Tatsache, dass ich am Revisionismus interessiert bin und sogar einige gegenwärtige Revisionisten getroffen habe, die feigeren unter meinen Kollegen dazu veranlasst, mich zu verleumden und meinen Ruf am Hobart & William Smith College schlecht zu machen.
Ich traf Germar das erste Mal im April 2010. Er war kurz zuvor aus dem Gefängnis in Deutschland entlassen worden und hielt sich in England auf, bis er ein Visum bekommen konnte, um zu seiner Ehefrau und Tochter in die USA zurückzukehren. Wir verbrachten mehrere Tage zusammen mit dem UK-Direktor unseres Vereins Deir Yassin Remembered Paul Eisen, mit Henry Herskovitz aus Ann Arbor und mit Francis Clark-Lowes, einem Aktivisten aus Brighton.
Germar sprach über viele Aspekte des Holocaust und Holocaust-Revisionismus, die für uns völlig neuartig waren. Wir waren fasziniert von seinem Kampf. Er sprach über seinen vormaligen katholischen Glauben, von Deutschland und den Deutschen damals und heute, vom Dritten Reich und Hitler, von seinen eignen gegenwärtigen Verhältnissen und Beziehungen, seinen Hoffnungen und Befürchtungen für die Zukunft und über viele andere Themen. Es sprach immer und fließend englisch, mit einem erstaunlichen Verständnis von Fakten und Interpretationen. Die Stunden wurden zu Tagen, aber er wiederholte sich kein einziges Mal.
Widerstand ist Pflicht
In diesem Buch werden Sie die Rede lesen, die Germar vor seiner Verurteilung vor dem Landgericht Mannheim hielt. Sie werden Germars Darlegungen zu einer Reihe von Dingen finden, darunter die Wahrheitssuche als Kern der Menschenwürde, der Konflikt zwischen dem Wahrheitssucher und dem Staat, der Bedeutung von Wissenschaft, Gerechtigkeit und Widerstand in Deutschland und in anderen Ländern. Sie werden Anhänge finden wie die zahlreichen Anträge an das Gericht und ihre Ablehnungen, Briefe an angesehene Historiker und deren feige oder manchmal auch weniger feige Antworten. Schließlich werden Sie das Urteil des Gerichts vernehmen.
Lies und leiste Widerstand!
Anmerkung
[1]    In Rudolfs Fall war es Rassiniers book Was ist Wahrheit?, 8. Aufl., Druffel, Leoni, 1982.[:]